Sheet Metal Fabrication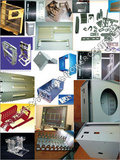 We are involved in providing Sheet Metal Fabrication services, using all types of steels namely CRCA, stainless steel and HR, galvanized iron and aluminum. Automated Sheet Metal Fabrication involves the fabrication of sheet metal cabinets, sheet metal parts of machines, metal cabinets for electronic devices, etc. We are having CNC Turret Punch Press. We have a design and development department for the new Sheet Metal Fabrication design. The metal sheet components we fabricate are stable, safe, reliable, user-friendly, corrosion resistant, durable and highly efficient. Also, they deliver excellent performance and are convenient to use. We also have a team of experienced professionals, who deliver this service to the level of customer satisfaction. We are widely known for Precision Sheet Metal Fabrication.
Why opt for our Sheet Metal Fabrication Service ?
We are involved in the precise metal fabrications of all types of steels namely CRCA, Stainless steel and HR, Galvanized iron and Aluminium. It involves the fabrication of sheet metal cabinets, sheet metal parts of machines, metal cabinets for electronic devices, etc. We are having CNC Turret Punch Press
We are having design and development department for the new metal fabrications design. All the facilities required are available in-house. The photograph over here is showing some of the sheet metal products that we are manufacturing. Any type of CNC job
We are having CNC bending machine and we are performing CNC bending job works
We manufacture electrical control panels on CNC machine. No panel builder manufacture the panels on CNC turret punch press
Features of our Sheet Metal Fabrication Service :
Our services are known for a team of highly qualified professionals, high tech machinery and thorough knowledge of metal working
We strongly believe that by integrating the latest technology into our services, we can provide our clients with the best possible results
Our offered services are acclaimed by the clients for their timely execution and reliability 
 
We offer a wide variety of sheet metal fabrications which are suitable for various industrial purposes and engineering work
The sheet metal fabrications that we provide are made in complete compliance with the international quality standard
We use the best quality carbon steel, stainless steel, metal, etc which are obtained from the authenticated vendors of the market
Hence, these are widely appreciated in the market for their perfect finish, good strength, high insulation, easy installation, stability and long functional life
Due to their unbeatable quality standard, we have been able to carve a niche in the world market by meeting immense clients' satisfaction